Archives
Press Club names KETC and KWMU its Media Honorees of the Year
Stations to be the toast of the town Nov. 1 at annual Press Club scholarship dinner and roast.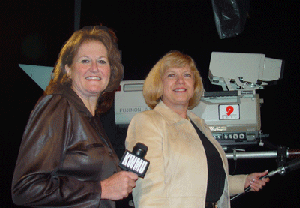 The Press Club of Metropolitan St. Louis has named KETC-TV and KWMU-FM, our region's two nationally affiliated public broadcasting stations, as the 2005 Media Honorees of the Year for their outstanding contributions to communications excellence.
Juanita Hinshaw, chair of the board of trustees of KETC/Channel 9, and Patricia Wente, director and general manager of 90.7 KWMU-FM, will accept the awards on behalf of their stations during the Press Club's 17th annual Media Honorees of the Year Scholarship Dinner and Roast Nov. 1 at the Sheraton Westport Chalet.
The event, themed "Let's Go Public!" begins at 5:30 p.m. with a reception, followed by the 6:30 p.m. dinner and roast in the Versailles Ballroom. Wendy Wiese, co-host of KTRS' morning drive show, will serve as the master of ceremonies.
The roasters and toasters are Harvey A. Harris, chair of The Stolar Partnership law firm and a KETC board member; Donn Johnson, director of communications for the Missouri Historical Society; Patrick Murphy, vice president of production at KETC; and Tom Schlafly, president of The Saint Louis Brewery Inc. and an attorney at the law firm Blackwell Sanders Peper Martin.
"In keeping with our longstanding tradition, it will be a night for giving well-deserved recognition mixed with good-natured fun," said Linda Mantle, editor of the St. Louis Jewish Light and chairperson of the event. Co-chairs are Joan Quicksilver, public relations consultant; Marci Rosenberg, media producer; and Dorothy Weiner, editor of the Ladue News. Harvey Harris and former Missouri Lt. Gov. Harriett Woods are honorary co-chairs.
Proceeds will fund Press Club journalism/communications scholarships, internships and professional development programs, as well as help preserve the media archives in the downtown St. Louis Public Library.
The cost is $125 per person. To make reservations or for information on sponsorship tables, call Glenda Partlow, the Press Club's executive director, at (314) 241-6397.
'Prestigious award'
Wente said that KWMU, a National Public Radio affiliate, fulfills a unique role in the St. Louis community by giving listeners news and information that goes beyond the headlines. A member-supported service of the University of Missouri-St. Louis, KWMU brings St. Louis thoughtful, in-depth news coverage and insightful discussion and exploration of local, regional and national issues by broadcasting programs like "Morning Edition," "All Things Considered," "Fresh Air," "Car Talk," "St. Louis on the Air" and "A Prairie Home Companion."
"For 33 years, KWMU has been serving the St. Louis community by bringing National Public Radio and news-talk programming to its listeners," said Wente. "KWMU's success has come from the generous support of its members, corporations and the University of Missouri-St. Louis. We are honored to accept the St. Louis Press Club Award on behalf of all those who listen to and support KWMU.
"It is always exciting to be recognized for your work, but it is especially gratifying to be recognized by those within your own profession," she continued. "We are truly honored to be chosen as a 2005 recipient of this prestigious award."
Previous award recipients — both individual and corporate — are the late Joseph Pulitzer Jr., the late Alfred Fleishman, the late Robert F. Hyland, Bob Broeg, the late Bob Burnes, Mary Kimbrough, Julius Hunter, Bob Costas, Karen Foss, Martin Duggan, Ray Hartmann, Bill McClellan, Charles Brennan, Wendy Wiese, Bill Wilkerson, Charlene Sherman Bry, Karen Carroll, Dick Ford, the late Greg Freeman, Mike Bush, Bernie Miklasz and the St. Louis Post-Dispatch.
Hinshaw said, "Channel 9 has been providing quality public TV programs since l954, and this significant honor from the Press Club is a truly splendid recognition of everything we've accomplished over the past 50 years. We are enormously grateful to the Press Club of Metropolitan St. Louis for including KETC in their roster of top-notch media. We're proud to be a member of this exclusive group."
Hinshaw added that KETC/Channel 9, the local affiliate of the Public Broadcasting Service, is one of the most-watched public television stations in the country and is known for its educationally and culturally stimulating programs.
Over the last half-century, St. Louisans have grown up with Channel 9, from watching programs like "Sesame Street" as children through "NOVA," "Masterpiece Theater" and the Emmy Award-winning "Living St. Louis" as adults. The station provides quality programming at every age through its original local, regional and national broadcasts and thought-provoking television prime-time specials.
The Press Club of Metropolitan St. Louis, originally known as The Catfish Club, is a professional, social and charitable organization of people who make, cover and influence the news. It is an "umbrella" organization for communications professionals who work in print and electronic media, public relations and advertising.
The annual Media Honorees of the Year event, which recognizes an outstanding individual or organization for contributions to our region's communications field, is the club's main fund-raiser.