Archives
National Media Education Conference
"iPods, Blogs and Beyond: Evolving Media Literacy for the 21st Century"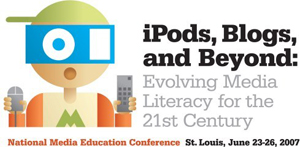 On-line registration is now available for the largest, most prestigious and broad-based gathering of media literacy educators in the U.S. --- the National Media Education Conference 2007, sponsored by the Alliance for a Media Literate America (AMLA), June 23-26 in St. Louis, Missouri.
The Early Bird rate of $295 (register by May 1) with low hotel rates in a central location make this an affordable, don't miss educational opportunity.
"iPods, Blogs and Beyond: Evolving Media Literacy for the 21st Century" - will be explored in more than 75 conference events, including keynotes, workshops, special interest caucuses and more.
NMEC 2007 will feature the latest theory, research, and strategies in media literacy education. You'll get multiple opportunities to explore innovative and evidence-based media literacy education programs.

Find all the details here.
AMLA is focused on moving forward the study and teaching of media literacy as a critical life skill for the 21st century. We have an outstanding group of featured speakers who will address the conference theme from a variety of perspectives:
* Renee Hobbs, pioneer in the field of media literacy, associate professor of Communication at Temple University and the director of the university's Media Education Lab.
* Douglas Rushkoff, author, teacher, and documentarian, founder of the Narrative Lab at NYU's Interactive Telecommunications Program
* Robin Blake, international expert on ML research/strategies, manager of the Media Literacy Team at the Office of Communications (Ofcom), the independent regulator for the United Kingdom's communications industries
* Henry Jenkins is the DeFlorz Professor of Humanities and Director of Comparative Media Studies at MIT. He is one of the founders and directors of The Education Arcade and the principle investigator for the MIT-Microsoft Games-to-Teach project, which is examining the educational potential of computer and video games. Jenkins has written six books and more than 50 essays on popular culture
Read more speaker details here and check back frequently for more information about additional presenters.
The conference also features the first ever 2-day Media Literacy Education Research Summit. Held immediately prior to NMEC, the Research Summit will feature presentations by an international group of experts and researchers from disparate fields. The AMLA's intent is to build an awareness of existing research regarding the efficacy of media literacy education. More details on the Summit are here.
A combined discount rate is available when you attend both the Research Summit and the NMEC. At both events, you will be able to meet, hear, and exchange views with many other top media education experts from the U.S., Canada and around the world.
NMEC will offer solid professional development credentials. On request, educators can earn CEUs for their NMEC participation. More details will be available on the website.
St. Louis is a great city for a conference, and you will be surprised at the low hotel room rates ($80 for a double room). Plan to come early and stay on after the conference is over! Check out hotel details and air options.
Save money and get the Early Bird discount by registering today. Registration includes access to more than 75 events, the Opening Reception, three continental breakfasts, one lunch and all breaks.
Register online today with a credit card .
Don't wait until 2009 -- this important biennial conference is the only one like it in the country, and it's your chance to meet and learn from the best.
See you in St. Louis!
The AMLA is a diverse alliance of individuals and organizations forming a national, non-profit membership organization that is a key force in bringing media literacy education to all 60 million students in the United States, as well as to parents, teachers, child care professionals, counselors, clergy, health care professionals, scholars, researchers, journalists, media makers, politicians, and others who care about youth.
Posted by Susan Rogers, serving as publicity chair for NMEC 2007